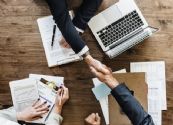 Employers
We look to go beyond merely submitting Candidates. Our most effective working relationships have benefitted from an open dialogue where both parties have a crystal clear definition of success.

We enjoy the opportunity to find out how the role and the ideal Candidate will fit into the broader picture of the Companies future development. We are often able to provide valuable input at this stage based on our knowledge of the market place.

We can help by running first stage assessment exrcises, or working with employers at second stage events. Our bespoke approach means that every brief generates different challenges and we will work with you to agree the most pragmatic strategy in each case.